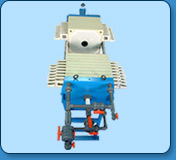 Slurry / Pilot Testing
FFP Provides pilot Slurry Testing on site in our lab. we are able to offer various types of filter press pilot press units for rent.
Slurry/Pilot Testing
FFP provides pilot/slurry testing on site or in our lab. We are able to offer various types of filter press pilot press units for rent. Testing results will provide optimum selection of filter cloths and filter plates and will determine if precoating or slurry conditioning is required. FFP System's can also offer the services of a technician to perform these tests and submit a report of the results.

Design Engineering
FFP System's filter presses are custom designed and engineered. Finite Element Analysis (FEA) is used to verify new designs. Our patented "cell beam" design for overhead filter presses provides a stable, compact design which greatly resists twisting and bending during normal operating and static loading. The design allows stress to be more evenly distributed through the entire crossection and thus reducing stress concentrations in critical areas. This results in smaller lighter sections without compromising strength.

Fabrication and Machining
FFP System Inc. manufactures all its components to conform to CWB 47.1 welding standards, and ISO 9001-2000 quality standards. It is our policy to support our customers by ensuring the quality of our products.

Assembly

Experienced technicians perform all assemblies for fit and function as customer requirements.

Start-Up & Service Support

FFP Systems Inc. provides worldwide start-up and service for both new installations and retrofitting of existing equipment. Customer support is readily available for all FFP Systems products as well as other makes and models. Our knowledgeable staff can support service by means of telephone, through the internet, and on site.
Filter Press
Volume Required -----
(Feet Cubed)

Volume of Material Weight Solid
to be Filtered Liquid (Gallons)
X
Weight of Product Liquid X (8.34 Lbs. Per Gallon X SP. GR.)
X
A
% by Weight Solid in Product Liquid (Total Suspended Solids)

B
Assumed or Known
Percentage Solid
in Filter Cake

C
Wet Cake Density
in Filter Press (Lbs. Feet Cubed)


A. Determined by standard method test for filterable dried residue at 103 degrees Celsius
B. For metal hydroxides an assumption of 30% may be valid
c. For metal hydroxides an assumption of 75 Ibs./cubic foot may be valid
100 PSI and 225 PSI filtration pressures
Sidebar and Overhead design
Plate and Frame
Recessed Plate
Recessed Membrane Plates
Recessed Mix-Pack Membrane
Filter Media - Polypropylene, Polyester, Nylon, Cotton
Manual Press Closure
Electro/Hydraulic Closure
Semi-automatic Pneumatic Cylinder Plate Shifting
Fully-automatic Hydraulic Plate Shifting
Manual Lift Out Trays
Infra-Red Light Curtains
Trip Wires/Pendant Stations
Portable Hand Held Cloth Washers
Automatic Cake Discharge Presse
Click to See Catalog