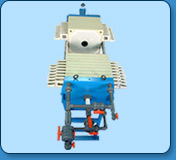 Slurry / Pilot Testing
FFP Provides pilot Slurry Testing on site in our lab. we are able to offer various types of filter press pilot press units for rent.
Based in Canada, FFP systems incorporated designs and manufactures dewatering equipment internationally, Committed to quaility, we provide reliable products, service and support to our Customers and their dewatering requirements.

There are several advantages when utilizing filter dewatering equipment;
Allows our customers to achieve lower moisture content in dewatered sludge, providing a more economical means of disposal.
Provide simple cake handling capabilities.
Operate at low ad high pressures, which makes it possible to dewater a variety of different types of sludge.
Dewater waste activated sludge and alum sludge that are otherwise difficult to dewater.



A variety of filter plate types and materials are available for use in a filter press.

Listed below are some applications
- Secondary Biological Slug
- Water Teatment Alum Sludge
- Metal Hydroxide Sludge
- Brine Sludge
- Lime Sludge
- Oily Sludge
- Palm Oil Fractionation
- Food & Beverages

- Pharmaceuticals
- Blood Processing
- Pulp & Paper
- Ceramic Glaze, Slip and Clay
- Mining Industry
- Chemicals
- Ground Water and Soil